10 Feb

482 The Value Proposition for Being a WARRIOR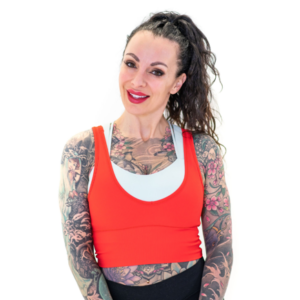 Ellen de Werd is a 23-year fitness industry leader with extensive experience developing innovative programs.  She is the creator of WARRIOR Rhythm™, WARRIOR Strength™, and WARRIOR Combat™. 
Her unique programs are taught in 11 countries. Since the launch of the WARRIOR Instructor Academy, Ellen has garnered national attention as a featured, favorite presenter and educator for IDEA, canfitpro, SCW, and Fitness Conventions Inc. Ellen is the Fitness Director at the Downtown Athletic Club and a Lululemon Legacy Ambassador.
Are you a fitness business operator whose group fitness schedule could use a little refresh? Are you a fitness business operator still recovering financially from the pandemic? If you answered yes to one or both of those questions, you have come to the right place. WARRIOR could be the 'edgy' programming to help your health club reinvent itself, all while being license free. Created in 2020 by group fitness royalty, Ellen de Werd, WARRIOR Rhythm™, WARRIOR Strength™ (WARRIOR Kids), and WARRIOR Combat™ deliver classic modalities like yoga, functional training, and kickboxing in thrilling, original ways.  Being a WARRIOR taps into empowerment and self-confidence for both instructors and students alike. Come ("as you are") and unleash your inner wild thing.
With 25 master instructors representing 11 countries, Ellen and her WARRIOR team are on the prowl for amazing fitness enthusiasts looking to take their career to the next level – Rebels wanted! There are three ways to become a WARRIOR instructor: in person, through Zoom, or in a self-paced course. WARRIOR programming is foundational, meaning if you're a group fitness professional, you'll pick it right up. If this is your first time as an instructor, you will learn the basics and provide you with a WARRIOR community to continue to learn from. 
Catch the WARRIOR team in action around the globe this year, or email Ellen at [email protected]. A huge thank you to Amy Boone Thompson with IDEA, Mo Hagan with canfitpro, Jamie Nichols with DCAC and MUSICCITY Fit Con, Janice Jaicks with Fitness Fest, and Sara Kooperman with SCW for being part of WARRIOR's 2023 Tour!
1)Hear firsthand Ellen's incredible story about the moment on her yoga mat where she just knew she needed to create something. That something was WARRIOR, born in 2020 at such a pivotal time in the fitness industry. As fitness businesses were closing due to the pandemic, Ellen was providing her fitness followers with content to share.
2)Ellen walks us through the types of class formats:
a)WARRIOR Rhythm – think of this one as a rebel yoga flow. This format was born from WARRIOR not trying to appeal to people who like yoga.
b)WARRIOR Strength – the scorpio of the formats, includes functional training exercise to helps us live life better.
c)WARRIOR Kids – the childhood obesity crisis coming out of the pandemic is heartbreaking and truly concerning. Ellen shares the details of this class and how it is one of her greatest accomplishments.
d)WARRIOR Combat – a new collaboration with Diva Richards that tapps into your inner fighter. You'll leave this class empowered to tackle the struggles of life, depression, over-eating, anxiety, etc.
3)Learn how you can incorporate this license free programming into your fitness business to compliment your group fitness schedule!
4)If you're an instructor, Learn the ways in which you can get certified and what a day of training looks like!
Resources Our Expert Shared in This Show