18 Jan

478 How to Build a Brand with Personality with Debbie O'Connor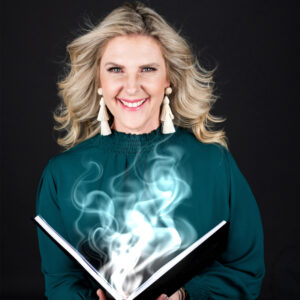 Debbie is a brand strategist by profession and graphic designer by trade, who celebrated 20 years in business in 2022. She is the author of Brand Magic – How to build a brand with personality and is an active entrepreneur. Debbie founded multi award winning creative studio White River Design (WRD) and the highly acclaimed Brand Personalities system. She recently launched Brand Magic – a platform to educate creatives in brand archetypes and empower them to create more profitable businesses. She is the branding expert on the Build My Brand 12 part series and the creator of the online program Brand Magic® Masterclass. Debbie also set up and runs The Creative Fringe, Western Sydney's most inspiring co-working space.
Born and raised in Apartheid South Africa, on the border of the world famous Kruger National Park in a small bush town of White River, Brand Strategist and Graphic Designer Debbie O'Connor grew up without brands such as McDonalds, Nike or Pepsi due to sanctions. Yet somehow she still knew about these brands. This is when her fascination with branding was born. Fast forward a few decades, and Debbie is now the Creative Director of multi award winning creative studio, White River Design. She is a sought after presenter and trainer, has online branding programs and a unique Brand Personalities system to help businesses find and understand what their Brand Personality is. She recently launched the book Brand Magic – How to build a brand with personality. She loves live theater, travel, and alcohol ink art.
What are brand personalities?
Advice on how to change bland and boring brands
Setting up our brand experience by using our 5 senses