19 Mar

347 The Value Proposition for Creating Unique Spaces

The Value Proposition is where Sarah Pellegrino chats with an industry supplier to find out the value they bring to their customers and the industry.  You will not only hear about the features of the product or service – which you can read on their websites or brochures – you will hear about the deep value and return of investment for you!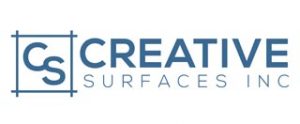 Have you been considering remodelling your health club or are you ready to begin construction on your new health club? Do you have an in-club design in your head that no architect or general contractor has yet to get correct? If you're wanting to make the designs in your head come to life then, Fitness Business Podcast Episode 347 – The Value Proposition for Creating Unique Spaces is for you! We're joined by Joan Gebhart, VP of Corporate Sales for Creative Surfaces and she walks us through every aspect of the design and build process. She'll cover details regarding the initial design renderings, how she can design with any budget in mind, value engineering, design approval, setting realistic timelines, and lastly – the installation process.
Creative Surfaces is a complete manufacturer, so this team is truly a one stop shop for all your in-club construction design needs. If budget is top of mind, as it is in most cases – speak with Joan about your budget and she can help you find materials that are the look you're wanting at the price you can afford. You'll learn how Joan and her team go above and beyond to make sure this is a seamless process from design approval to design install. She reviews common missteps owners make when beginning a project like this and provides great advice to all owners! You'll even hear from Joan's clients who will give you a first-hand account as to their experience working with Joan from start to finish. You won't want to miss this!
Guests
Joan Gebhart, Vice President of Corporate Sales at Creative Surfaces
Dennis Cieri, Bench Press World Champion, CEO of Fitness Factory, and owner of SSP Nutrition
Ali Lewis – CEO of Dragon's Lair
Flex Lewis – 7 Time Consecutive Mr. Olympia Body Builder Champion
Joel Tallman, CEO of MUV Fitness
Matt Clifford, President/CEO, Managing Partner of the largest Gold's Gym Franchise group – based in Washington DC

What You'll Learn
We cover in depth when you should engage with Creative Surfaces so that they can be the best partner and work hand in hand with your architect and general contractor.
You'll hear about how Joan and her team can design with any budget in mind and how value engineering helps you get the look you want with the materials you can afford.
This episode is a great deep dive into every area of the club that Creative Surfaces can help you with – from the front desk design, to locker room design, to club branding and signage and so much more!
[vc_video link='https://youtu.be/SX_Ey7GPZiM']
Resources Our Experts Shared in the Show