04 May

431 How Virtual Reality and the Metaverse Can Help Gyms Succeed with Ryan DeLuca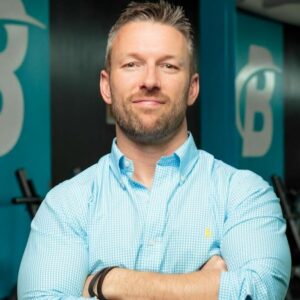 Ryan DeLuca is a fitness fanatic and co-founder of Black Box VR,  the world's first virtual reality gym experience. Tired of boring workout programs, Ryan and his team created an experience that blends gaming and serious fitness to get people in the best shape of their lives. As their website states, they are building the future of fitness. 
So it's no surprise that the topic in this show is Virtual Reality Fitness and its place in the fitness industry. 
More About our guest
Before founding Black Box VR, Ryan and his partner Preston Lewis were pioneers in the fitness industry. They built Bodybuilding.com into the largest online supplement retailer in the world. Bodybuilding.com boasted close to $500m in annual sales.
Ryan and his team created some of the world's most recognized supplement brands.  Also, they created chart topping fitness apps and award-winning health & fitness campaigns.  Not only that, the partners created the world's largest online fitness social network (with over 3m members). Their mission of changing people's lives held true throughout.
Virtual Reality Meets Fitness
In 2016, Ryan and Preston started their new venture, Black Box VR.  Their goal?  Disrupt the fitness world with a forward -thinking workout. Their innovative products and new experiences changed people's lives.
Once they experienced virtual reality for the first time, everything changed. Instinctively, Ryan and Preston knew this new immersive technology would change fitness. They paired virtual reality with resistance training, gaming principles, and high intensity cardio. The combination was a game changer for people trying to reach their health & fitness goals. Unquestionably, Black Box VR is redefining fitness as we know it.
What You'll Learn
Discover the new virtual fitness experience options available to gym owners and their members. If you are looking for something new to bring into your club, this is a must listen. 
Your Podcast Snapshot
The Game & how it redefines fitness
What is Virtual Reality?
What type of virtual experiences are available for gym owners and their members?
Is gaming the future of fitness?
What is next for virtual reality in fitness? 
Contact Today's Guest Ryan DeLuca