25 Mar

283 In the Trenches with the Founder of Spartan, Joe De Sena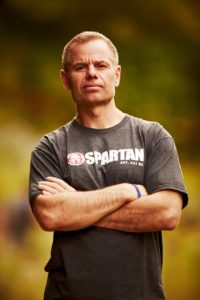 Joe De Sena Founder and CEO of Spartan, the world's largest obstacle race and endurance brand – has demonstrated his entrepreneurial drive since his pre-teens. After building a multimillion-dollar pool and construction business in college, and creating a Wall Street trading firm, De Sena set his sights on ripping 100 million people off their couches by creating the Spartan lifestyle.
Following a successful career on Wall Street, Joe moved his family to Pittsfield, Vermont to operate an organic farm, a bed and breakfast, and a general store for hikers. It was here his passion grew for ultramarathons, adventure races, and endurance events, and thus the idea for Spartan was born.
With more than one million annual global participants at more than 200 events across more than 30 countries, Spartan offers heats for all fitness levels and ages, from beginner to elite and Kids as young as four-years-old. The brand has transformed more than five million lives since it was founded in 2010.
Joe De Sena is also the New York Times Best Selling Author of "Spartan Up" and "Spartan Fit," and recently released his third book, "The Spartan Way." As a popular keynote speaker, Joe has parlayed the teachings of his Spartan Principals into the SpartanX Leadership Forum, a series of events in which participants collaborate to solve challenges alongside business leaders while learning to overcome mental and physical obstacles.
In addition to race events, the Spartan lifestyle that Joe built encompasses all the tools one needs to transform their lives including partnerships with fitness brands such as Life Time, 24Hour Fitness and the DailyBurn; complementary training, nutrition plans and content; television series on NBC and Facebook; forthcoming documentaries about the brand, sport and health; and an extensive line of apparel and licensed fitness gear and equipment.
Throughout his lifetime, Joe has competed in any extreme sports adventure he could find, testing his mental and physical endurance against nature. Joe turned an interest in endurance racing into a passion. His racing resume is the stuff of legend – over 50 ultra-events overall and 14 Ironman events in one year alone.
Yancy Culp has been competing and coaching in the sport of obstacle course racing (OCR) since 2011.  In 2013 he met Spartan Founder/CEO Joe Desena while completing the 72-hour Death Race in the mountains of Pittsfield Vermont.   Since meeting Joe, Yancy has worked with Joe & Spartan in various roles such as Spartan Edge Master Coach, Leadership X coaching, and Spartan podcast host.   Since completing his first Spartan Race, Yancy has completed many Spartan Ultra Beasts, Beasts, Supers, Sprints, and he finished top 50 in the Spartan elite points standings for 2014 & 2015.
Your Podcast Snapshot:
A brief history of building the Spartan business and brand
How to continually evolve a business and create new offerings
How to lead your team when obstacles arise in your business
Contact Today's Guest
Joe De Sena | Facebook | Instagram
Check Out DEKAFIT here
Quick Fire Five Guest
Book and App recommendation from David Meerman Scott
This Week's REWIND Show
272 Sgt Ken Weichert How to Set Your 2020 Up For Success
This Week's Podcast Partners
Fitbizpiration Partner